I never thought about recycling yarn from my old sweaters, it just make sense! I had this nice long and super big sweater just taking space in my closet and which I haven't wear in a very long time… I bought it a little after I had my son so it was huge! So, I decided I would unravel it and make something new.
Recycling yarn from old garments has become a nice trend in the last few years since it is a great sustainable alternative to throw old clothes away. You can basically reuse any kind of yarn like wool, cotton, acrylic and all others.
Where to get
reused yarn?
You can buy recycled yarn in many online hobby stores. You can also ask in your local yarn store if they have it or you can go to the thrift store, buy used garments at a very low price and unravel it. The choice is yours!
These are some of the brands where you can get beautiful and sustainable yarn for your next project:
This is becoming my favorite online yarn store. They offer 100% sustainable Peruvian wool and cotton. Their recycled yarn is composed of 95% cotton and 5% of other fibers, their needles are handmade using 100% beechwood and their bags are recycled and reusable.  Not bad!
Darn Good Yarn offers recycled silk from different types of natural fibers. Their mission is to provide sustainable and ethically produced yarn by taking care of all their processes, from the artisan to the person who packs the orders.
Besides the natural wool yarn, they also offer the New Wave Yarn which is made from discarded plastic bottles, turning the planet's plastic pollution into beautiful recycled, sustainable do-good yarn. Click here to get 15% off on your first purchase (use code Nordic Handmade or jenny@nordichandmade).
Fiber artist, Misti Nolan, reuse unused fashion items to make 100% natural fiber knitting and weaving yarns, sold in whole recycled sweater bundles. In her shop you can find different types of yarn, from alpaca, cotton and silk to merino, cashmere and wool.
Of course, you can find many options also in Etsy, Amazon, among others.
From Old Big
to New Cozy!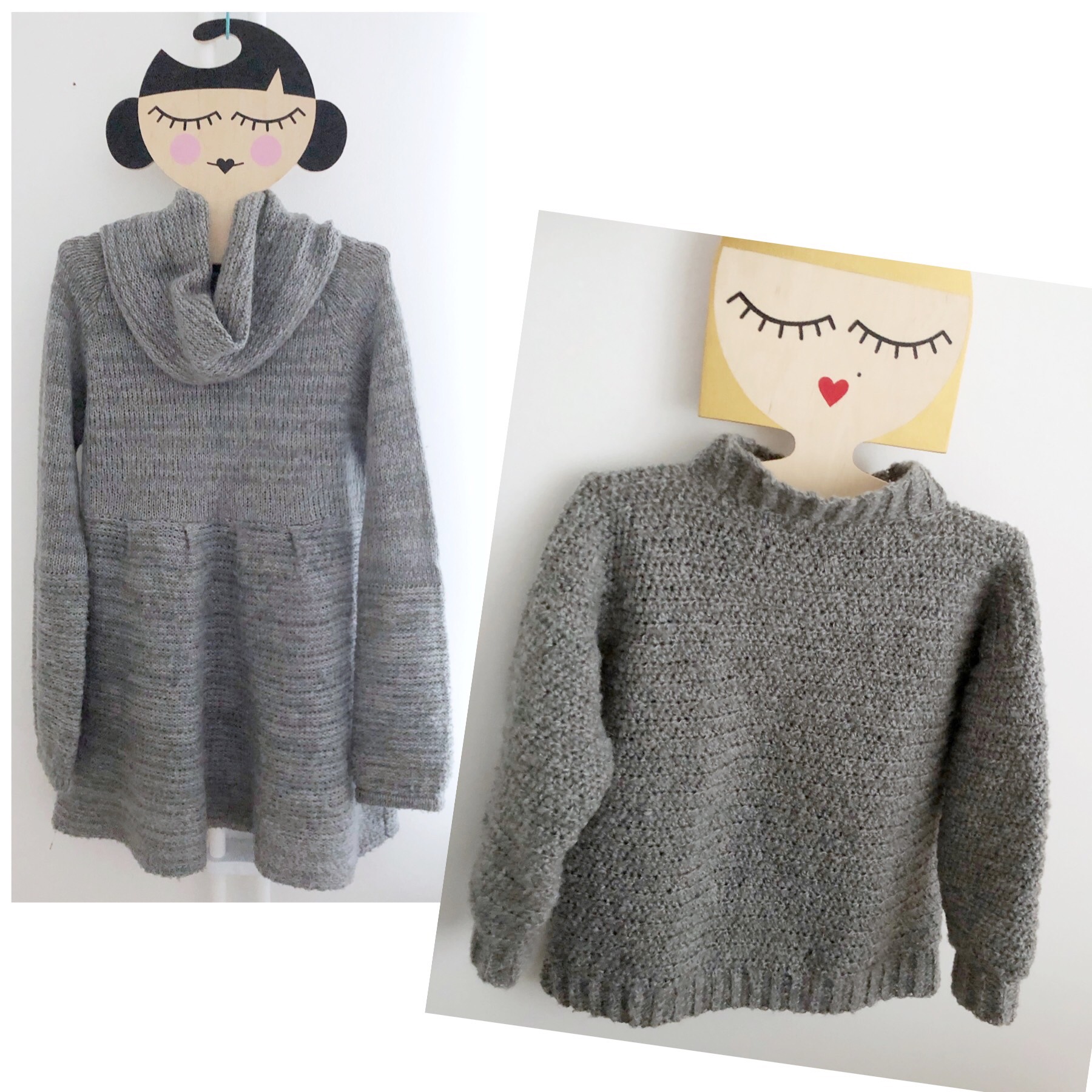 So, for my first project using recycled yarn I chose the pattern Retro Stripes Sweater from megmadewithlove.com which brings me back to the 80's for some reason.
This pattern uses basic stitches and it is worked out in rows using hdc (half double crochet). It was very easy to follow and it includes directions for all sizes. You can get the free pattern here or if you want to have it ad-free in pdf format, you can get it on her Etsy shop.
I used a 6 mm crochet hook and made it for medium size. My new sweater is so warm and cozy!
What a nice feeling when you finish a project for yourself and help the environment, right?
Well, that's all for now. Bye!
got Pinterest?
just pin it!