Welcome to my very first post! I'm so excited about this new challenge. If this is your first visit to Nordic Handmade, let me tell you a little bit what will you find in my blog.

Let me introduce myself… my name is Jenny and I'm a crochet addict (yes, I get crazy when I'm around yarn and hooks), I also love fabric and making dolls with it.
So, I will share stories about my crochet and sewing projects.
I love sharing, so also write about experiences that I have, things that I have done, mistakes that I have made, personal thoughts, opinions about different topics, fun things, maybe boring things… and that is just because I would like to share these stories with you. I hope you find it interesting!
So, let's start!
What does a blue giraffe, a flower girl and a hipster boy have in common?
I would say that all of them stand out from the crowd because each of them have something unusual. Let me tell you a little bit about these particular characters, how they came to life and  then you can tell me if they do stand out from the crowd or if is all in my mind (most probable option).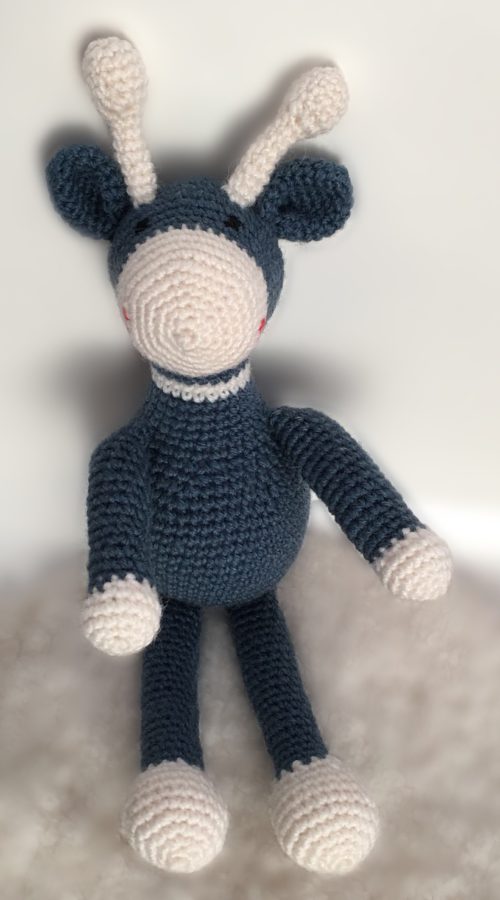 Let me introduce you to Tally. She is cute amigurumi giraffe I crocheted some years ago when I started with this hobby again. I used a free template I found online (but I lost the link, if anyone recognize the pattern, please do let me know, so I can give credit to the designer).
The pattern was easy to follow, mainly working in rounds, then attaching the legs, arms, ears and ossicones (or horns, in simple terms) and embroidering the details in her face.
Why blue? Because I love this color. I bought this yarn to make a hat but for some reason (don't remember why) it ended up as a beautiful giraffe.
This project was a challenge at that time because I hadn't crocheted anything in many years, so I had to remember the basic stitches, but once I started, it all came back. I guess is like riding a bicycle, once you learn you will never forget how to do it, you just try and after a couple of times, it just feel natural.
Tally is still one of the favorite toys I ever have made!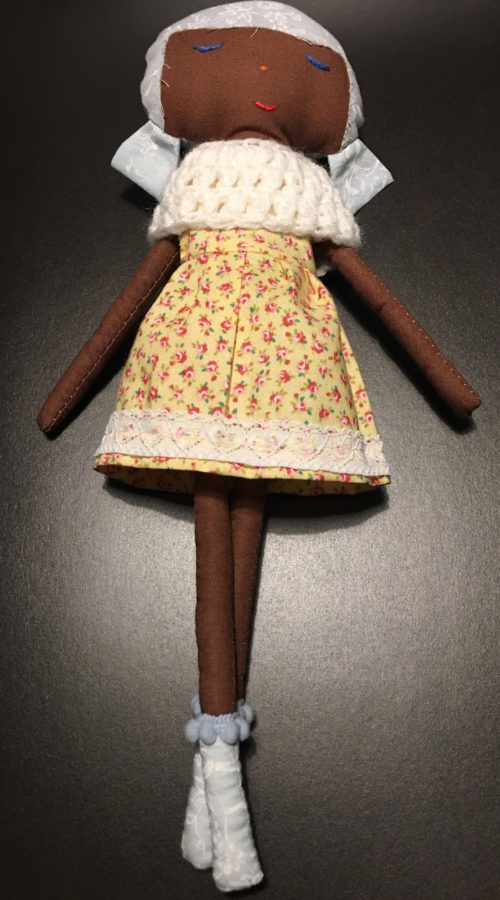 Ok, it may sound a little childish, but I love dolls. Ever since I was a little girl, my room was full of different type of dolls (a lot of Barbies, ha ha ha).
I remember my grandma made me a beautiful fabric doll for a school assignment and since then I always wanted to make one myself, so, when we bought our sewing machine (to fix old clothes, mainly), the first thought that came to my mind was: "I'm going to make a doll".
I got inspired by the dolls from AntonAntonThings which are full of different colors and textures and different than the traditional dolls and I wanted to do something like that.
When visited the local fabric shop, I felt overwhelmed with the amount of types, colors, designs that couldn't really find what I wanted. I started to look online and found a wonderful cotton fabric at Pretty Fabrics and Trims. The print of the fabric was so cute and light with tiny flowers in different colors that were perfect for my doll.
I wasn't sure how to make the hair, so I though maybe I could use same floral fabric but in a different color and, as you can see in the pic, she turned out to be a very sweet doll.
A few more flower dolls were born after that and their final look reminded me of this lovely time of the year when all the flowers and trees start to grow and that was how I choose the name of this doll collection Spring Blossom Dolls (I will show the whole collection in a future post).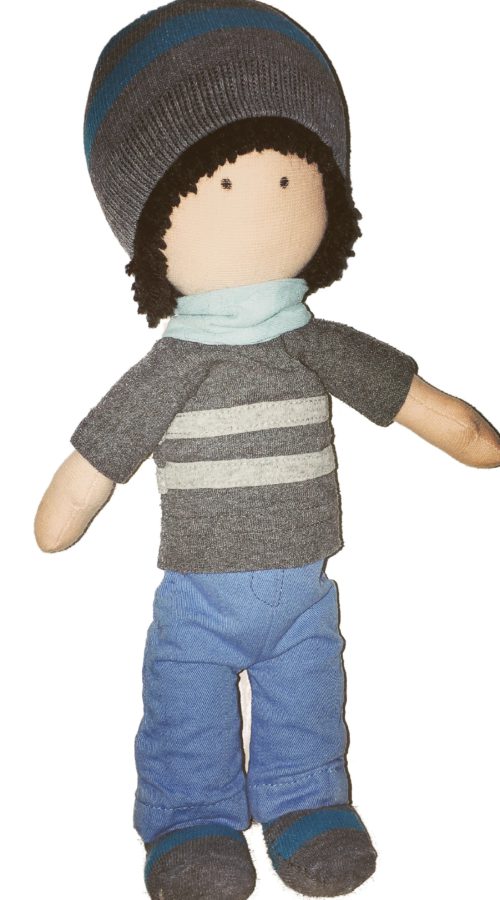 Apple was born last year, when we were doing spring cleaning at home. We had some old clothes that were just taking up space in the closet. I didn't wanted to throw them out but those were not in a very nice shape to give them away either. So, I decided to recycle and used it to create the clothes for this handsome hipster looking boy.
I created several patterns until I was happy with it (it was not perfect though), bought some cotton fabric for body and head and started to sew. I learned that I need to use a fabric that doesn't stretch much to support the knitted fabric used for head and body in order to keep the shape the way I wanted to.
His pants are made from old blue pants and I sewn some details to make it looks like jeans. His t-shirt and scarf are from the sleeve of a shirt and the hat and socks comes from old socks.
For the hair I used some black yarn from previous projects. I first created the base of the wig by crocheting in spirals, attached one hair in each stitch and then sewn the wig to his head.
For the face, I used a fabric marker to paint the eyes and after this picture was taken, I embroidered a little smile to give him a little emotion to his hipster look.
Ok, there you go, my first story. I hope you have enjoyed.
I would love to read what you think of these special friends, please leave a comment below.
Have an amazing day!!